Unity Health Network Earns 2023 CHIME Digital Health Most Wired Recognition
Oct 04, 2023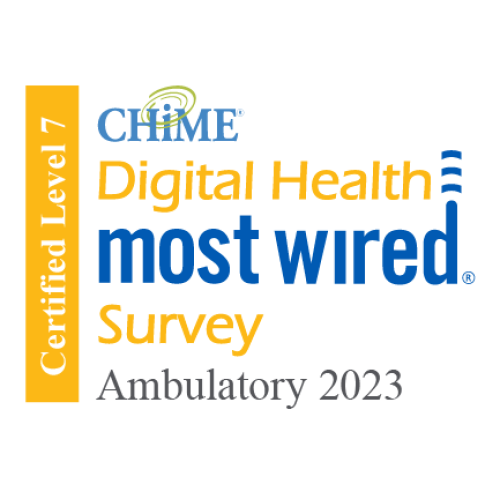 The College of Healthcare Information Management Executives (CHIME) is pleased to announce that Unity Health Network has earned the 2023 CHIME Digital Health Most Wired Ambulatory – Level 7 recognition. 
The CHIME Digital Health Most Wired program conducts an annual survey to assess how effectively healthcare organizations apply core and advanced technologies into their clinical and business programs to improve health and care in their communities. 
Among the more than 55,000 facilities represented, Unity Health Network ranked above peers in categories like analytics and data management, population health, infrastructure, and patient engagement. The survey assessed the adoption, integration and impact of technologies in health care organizations at all stages of development, from early development to industry leading.
"Our technology team at Unity Health Network is fully committed to continually improving the efficiency, quality and safety of the care we provide to our community and I am proud of the work we accomplish together," said Pamela Banchy, chief information officer and vice president of clinical informatics at Unity Health Network.
"We are proud to recognize your organization's exceptional dedication to digital health excellence," said CHIME President and CEO Russell P. Branzell.  "Your pioneering performance in the industry not only inspires other organizations by example, but also provides patients around the world with better care."
This is the sixth year CHIME has conducted the survey and overseen the program. In each successive year, CHIME has expanded the survey to capture more types of organizations that serve patients across the continuum of care. CHIME also continues to promote the program internationally to provide a global overview of digital health advancements. 
Amid escalating challenges posed by growing cybersecurity threats, evolving care models, staffing shortages, and budget constraints, the call for revolutionizing healthcare through technology is moving forward at a rapid pace. The future of health and care that we envision over the next 30 years will be a world apart from what we have now. Driven by emerging technology, we should expect that digital innovation—enabled by fully interoperable data, artificial intelligence, and open, secure platforms—will drive much of this change. A strategic roadmap will be more critical than ever to navigate this myriad of change.
The scope of the CHIME Digital Health Most Wired survey reflects the progress of leading healthcare providers as they reinvent healthcare for a new century. For more information about the CHIME Digital Health Most Wired program, click here.     
About CHIME
The College of Healthcare Information Management Executives (CHIME) is an executive organization dedicated to serving chief information officers (CIOs), chief medical information officers (CMIOs), chief nursing information officers (CNIOs), chief innovation officers (CIOs), chief digital officers (CDOs) and other senior healthcare IT leaders. With more than 5,000 members in 58 countries plus two U.S. territories and over 190 healthcare IT business partners and professional services firms, CHIME and its three associations provide a highly interactive, trusted environment enabling senior professional and industry leaders to collaborate, exchange best practices, address professional development needs and advocate the effective use of information management to improve the health and care in the communities they serve. For more information, please visit chimecentral.org.