Unity Health Network Infectious Disease Adds Katherine Sanderson, MSN, APRN, FNP-C
Jul 01, 2022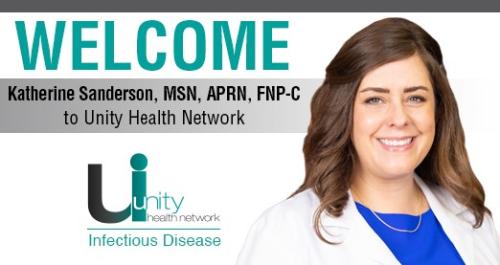 Unity Health Network has expanded with the addition of Katherine Sanderson, MSN, APRN, FNP-C, within its Infectious Disease division.
Katherine Sanderson, MSN, APRN, FNP-C, earned her Master of Science in Nursing and Bachelor of Science in Nursing from Middle Tennessee State University. She is a member of the American Association of Nurse Practitioners, Tennessee Nurse Practitioner Association and Sigma Theta Tau Nursing Honors Society. Before joining Unity Health Network, Katherine worked as a Registered Nurse for 15 years caring for critically ill patients and specializing in Neuro Trauma critical care.
Sanderson now serves patients at 3033 State Road, Suite 204, in Cuyahoga Falls. For more information, call the office at (330) 253-9727 or visit unityhealthnetwork.org.